Anti snap locks and the standards to look out for.
You may have recently seen or heard that an "anti-snap" lock with a kitemark number will prevent lock snapping break-ins.
Unfortunately this information is incomplete but don't panic, there are solutions available but you must buy following the right advice. 
When buying anti-snap locks these are two standards to look for. 
SS312 Sold Secure Diamond rating
TS007:2012 British Kitemark - 3 star rating
Be aware that locks that have passed an older kitemark prior to the TS007:2012 have not been tested for lock snapping. 
Also note that if a lock has only a one star TS007 kitemark rating it has not passed snapping tests. This means the lock would need additional 2 star rated security handles or guards.
The Sold Secure Diamond Standard.
Sold Secure, the security product test house owned by the Master Locksmiths Association started work over 3 years ago on a test standard to cover newer known methods of attack on euro cylinders.
SS312 Diamond, which started towards the end of 2010 and is constantly being updated and tweaked to ensure it's consistently up to date with latest techniques etc, is the highest level of approval for lock cylinders, and includes a test for resistance to snapping.
The Sold Secure Diamond standard includes a set of more robust tests than the TS007 standard and includes tools that are available to the general public to use against a euro cylinder lock that is not used in the tests conducted in the TS007 standard.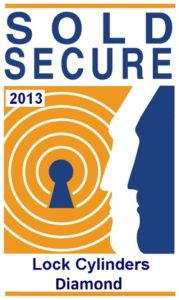 Subsequent to the launch of SS312 Diamond other standards have been launched to address the issue but the Sold Secure standard is seen by most as the leader and therefore the approval to have.
The Sold Secure standard is simple to understand and relies on the strength of the euro cylinder alone.
If a lock has passed Sold Secure Diamond, the lock can withstand brute force attacks,
You can find a list of cylinders that have achieved this highest level of approval by clicking here.
British Kitemark TS007:2012

BSI TS007:2012 is the revised British Kitemark for euro cylinders and security hardware.

This new Kitemark uses criteria of the past Kitemark tests, i.e. BS EN 1303:2005 and BS 3621:2007 and PAS24:2007* but now has additional tests which use a common method of attack known as "lock snapping".

Euro cylinders and security hardware will now be classified under the TS007 British Kitemark with the use of a star rating system.

Euro cylinders can be rated as one star or three stars and security hardware will be rated as two stars.


Cylinders are awarded a three star rating when they have passed all criteria of the TS007 British Standard
Kitemark including new lock snapping tests.

A one star rating is given to a cylinder lock that has met criteria of the British Kitemark but has not passed snapping tests. The locks would require additional 2 star rated security hardware to reach a TS007 3 star Kitemark.
Our summary of the new TS007 Kitemark.
Whilst the new introduction of the newer kitemark is a step in the right direction the opportunity for confusion over the standard is great. 
There is also the opportunity for the public/purchaser to buy one star rated locks with a kitemark on the belief that they have purchased an anti-snap solution.
If a lock only has a one star rating it has passed all of the past criteria of the kitemark BS EN 1303:2005 but it has not passed snapping tests.
Without the back up from a security handle or guard a one star rated lock would offer little benefit in many cases over a standard euro cylinder.
Retailers should advise that security handles should be used with one star rated locks.
It is always worth checking what the manufacturer advises on their website or in promotional material.
What standards has the ABS lock reached?
The ABS lock has passed the TS007 standards for maximum security with the highest 3 star kitemark rating and more importantly has passed the Sold Secure Diamond standard - to date no other retro-fit euro cylinder has passed this tough standard.
Many locks that have reached the 3 star kitemark have failed to pass the Sold Secure Diamond standard due to the robust nature of the tests.
The ABS snap secure lock does not require additional security handles or guards which are often difficult to install in a retro-fit application.

The ABS snap secure lock is a retro-fit solution that replaces a standard lock with no other costly hardware or door modifications.
ABS is also accredited with Secured by Design status by the Association of Chief Police Officers.
FAQ
Q) My lock has no british kitemark is it okay?
A) The only real way to know that your lock will withstand lock snapping attacks is to ensure that it has at least a 3 star rating and better still the Sold Secure Diamond rating
Q) My Lock has a Bristish Kitemark and is tested to BS EN1303 2005 and it has anti-snap lines is it okay?
A) NO - The BS EN 1303 2005 Kitemark standard does not test a lock for lock snapping, only the newer TS007:2012 and Sold Secure Diamond standards test for lock snapping
Q) My lock has kitemark with a one star rating is it ok?
A) NO - A one star rated lock will require a two star rated security handle or guard to bring it up to the 3 star anti-snap requirements.
Download our Important Advice Leaflet here 
For more advice on door security and hardware standards have a look at the Master Locksmith Associations security standards guide.